Trailblazing dinner – Jewish and Muslim leadership in Victoria
Read on for article
A further significant step in cementing an ongoing meaningful relationship between Victorian Jews and Muslims was marked at the recent executive dinner held for the leadership of the Jewish Community Council of Victoria and the Islamic Council of Victoria.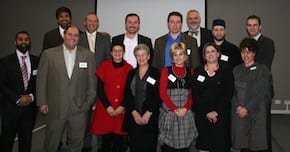 Jewish Community Council of Victoria (JCCV) president John Searle, said "the significance of the meeting for both communities cannot be underestimated; the feeling of friendship in the room was palpable as was the desire to dispel misconceptions about one another".
Searle went on to say "the dinner served to develop relationships and understandings between the executives, as people first, with diverse backgrounds, interests and skills and as representatives of the Jewish and Muslim communities and the key challenges we both face. The funny thing is that when discussing our individual backgrounds, it became clear that there were far more similarities than differences".
Hyder Gulam, President of the Islamic Council of Victoria (ICV), said that a key priority of the ICV is to establish peaceful and harmonious relationships with all Australians, regardless of race, religion or overseas events.
Hyder stated "taking the first step to build bridges and useful partnerships with the Jewish community makes the critical statement, that the ICV says no to all forms of racism and that the ICV will forge partnerships on issues that affect them as Australians and as practising members of the Islamic faith."
The executives considered the many issues facing the Islamic and Jewish communities and found much in common. They spoke of the importance of imagery and leadership in developing religious harmony. One only need imagine the sight of a Rabbi and a Sheikh walking down the street together or deep in discussion over a coffee to understand how simply a few can make a significant difference.
The outcomes of the dinner were that the JCCV and ICV plan to work together on issues of mutual concern such as Kosher and Halal slaughter, events and activities to create harmony and understanding and engaging youth in faith and community activities. The ICV have already extended an invitation to their next function and have invited Searle to give a lecture on Leadership to representatives of their community.