Feintooner
June 17, 2019 by Feintooner
Read on for article
This week's cartoon from Feintooner…Smoke Signals.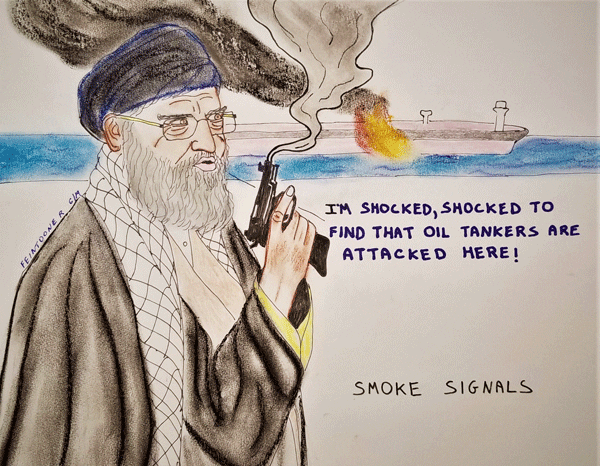 Photo Galleries

What's On? When? Where?
Positions Vacant/Classifieds

Aug-05 2:55pm TV-Viceland: Cyberwar

Israel is one of the world's cyber superpowers. Read more

The creator of Shtisel, Yehonatan Indursky, will be zooming in from Israel to give a talk and Q&A session on August 5. Read more

Aug-06 Zoom: Technion webinar hosts inventors

Dr Amit Goffer experienced a tragic accident that confined him to a wheelchair – as an accomplished inventor and entrepreneur, he didn't accept his fate to never stand upright again and immediately started to develop alternative modes of transport to the traditional wheelchair. Read more

Aug-07 7:30 pm SBS-TV: Belsen – The Untold Story

Belsen: The Untold Story is a film telling the untold story of the infamous Bergen-Belsen concentration camp, where over 50,000 people, mostly Jews, died primarily from starvation and disease in the last phase of WWII.

Aug-08 8:30pm SBS-World Movies: The Debt

Helen Mirren and Sam Worthington star in The Debt, the powerful story of Rachel Singer (Mirren), a former Mossad agent who endeavours to capture and bring to trial a notorious Nazi war criminal – the Surgeon of Birkenau – in a secret Israeli mission that ends with his death on the streets of East Berlin. Read more

Aug-10 9:55pm TV-Viceland: Difficult People

Billy visits his very Jewish brother for Yom Kippur dinner and Julie attempts to befriend a veteran to prove to Marilyn's surrogate daughter that she's charitable. Read more

Aug-19 Melbourne: MDA blood drive

Melbourne readers are invited to participate in the MDA blood drive. Read more

Aug-22 5:25pm SBS-TV: Inside the SS – Extermination

During WWII, Hitler put the SS in charge of exterminating the designated enemies of the regime. Read more

Articles published on J-Wire do not necessarily reflect the views of the publisher. We strive, within reason, to allow diverse views to be aired and answered.

J-WIRE IS FREE BUT IT COSTS TO RUN. CAN YOU HELP?

Contact Us

AWeber

Like J-Wire on FB

EMPLOYMENT OPPORTUNITIES

COMMENTS
J-Wire will accept comments only from readers who provide a name and a legitimate email address.