Calling for volunteers to help grow Limmud-Oz!
Read on for article
Calling for volunteers to help grow Limmud-Oz in Sydney!
Limmud Oz is a unique Jewish community event, providing learning & cultural experiences, which appeals to the entire community: young, old, religious, secular, and everything in between.
Limmud Oz is looking for volunteers for its one day Yom Limmud on 15 June and its residential weekend LimmudFest on 28-30 November. You too can now be part of this exciting opportunity, mixing with likeminded people, each giving a few hours a week in support of such a wonderful community concept! (or help out on the day)
Volunteerism is a core principle for Limmud worldwide. Part of Limmud Oz's development has involved making volunteers central to what we do. Limmud Oz is now volunteer-led, with volunteers in the driving seat and Shalom Institute staff providing professional support.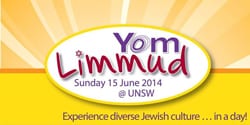 To get involved now, please contact [email protected] asap … we look forward to hearing from you!