Seymour Centre becomes 1933 Berlin Underground Bar
July 28, 2011 by Community Editor
Read on for article
The Reginald Theatre at Sydney's Seymour Centre is to be transformed into a German cabaret for "Der Gelbe Stern" – "The Yellow Star"…a one woman show performed by Alexis Fishman who also co-wrote it.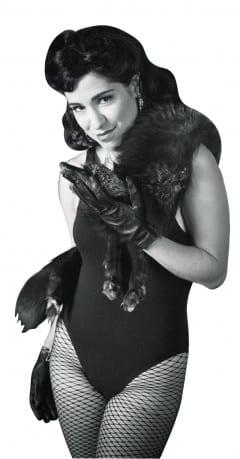 It is 1933, in divinely decadent Berlin. Alexis Fishman (Dusty, Kiss of the Spiderwoman, Shout!) is Erika Stern, darling of the Weimar cabaret scene. Feisty, sassy and always provocative, her show embodies the excess and daring of her time.
For two weeks only we transform the Reginald Theatre into a German underground bar for Erika Stern's rousing cabaret performance. But as the Nazis rise to power, tonight's performance will be her last. The lights go down and the audience holds their breath.
The show will run from August 3 -13
"Gob-smacking… Fishman has a grand voice, pizzazz and charistmatic presence. She's sensational!"
The Australian
Der Gelbe Stern is part of Berlin Sydney, a program of events inspired by 1920s Berlin held at various leading arts venues including Art Gallery of NSW, Sydney Theatre Company, Sydney Opera House, Museum of Sydney, Sydney College of the Arts, Goethe-Institut and the Seymour Centre.
Bookings: Call 02 9114 1555 or book online