My UJEB journey
March 28, 2017 by J-Wire Staff
Read on for article
A Melbourne student who does not attend a Jewish school has warm words for UJEB.When I was in primary school, my parents enrolled me in Melbourne's UJEB's Religious Education program at my school.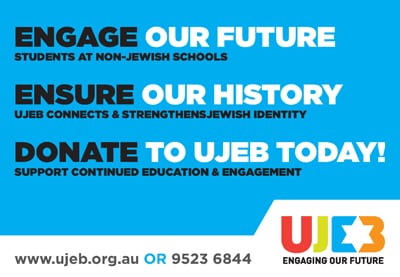 I loved my lessons but because it was only half an hour a week, my mum decided to enrol me in UJEB After School. Not only did I learn a lot about my Jewish culture and heritage, but I can now speak some basic Hebrew too. One of the highlights for me was the Model Seder where my parents and Buba came to watch me and my friends sing songs and read from the Haggadah. We were so good I was put in charge of songs at our family seder!
When I was in grade 3, I went on my first UJEB Camp. It was amazing to meet Jewish children from all different schools, hang out with the awesome madrichim (camp leaders) and experience my very first Shabbat. The singing was an incredible experience that left me feeling happy and hoarse. We were all sad to leave but it has been amazing to see some of those kids since at UJEB Chaggim functions and at other UJEB camps across the years.
But, my highlight has been participating in the UJEB Bat Mitzvah program. Getting together with other girls all the same age and embarking on a journey of social justice, tzedakah, Israel, Torah, Jewish women and Jewish history was inspiring. Many of us are still in touch now we are in high school and meet up weekly at UJEB's Jewish Student Network get-togethers. We're also planning on having a reunion at UJEB's JSN camp this year. We are already looking forward to going on the Israel program in Year 10, and after that learn Leadership & Advocacy skills through years 11 and 12.
I'm not at a Jewish school so I have no doubt that UJEB has helped mould me into the person I am today. I am proud of my Jewishness, my heritage and my culture. I feel connected to the Jewish people and our Melbourne community.
Please continue to help UJEB educate me and my friends. After all we are the future of our community!
ENGAGE OUR FUTURE
ENSURE OUR HISTORY
DONATE TO UJEB TODAY!
To Donate
Please visit : www.ujeb.org.au
or call: (03) 9523 6844