Love of wildlife hereditary
March 6, 2014 by Henry Benjamin
Read on for article
A TV series based on the experiences of vet Liza Schneider will be launched in New Zealand this weekend.
37-year-old Schneider attributes her love of wild life to her father Rob, former CEO of JNF Australia.
In 1970 Rob Schneider volunteered with the Endangered Wildlife Trust in his native South Africa. This was the forerunner of his involvement with Rhino and Elephant Foundation, the Wilderness Trust, Lapalala Wilderness School, the African Raptor Information Centre and The Israel Nature and Parks Authority.
Liza Schneider inherited her father's passion for wildlife and graduated as a vet in South Africa in 2000. She emigrated to New Zealand shortly afterwards establishing her own practice in Tauranga.
Following in her father's footsteps, Schneider combined her veterinary skills with her passion for wild life establishing charitable trust Animal Rescue and Rehabilitation Centre [ARRC]. Schneider's work within the trust had her focusing on rescuing, treating and rehabilitating New Zealand wildlife.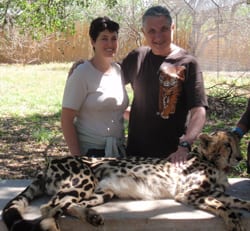 Liza Schneider's expansion of her activities from domestic and agricultural vet to tending for wild life has won her many awards…and the attention of TV executives.
The series "M.A.D. Vets 24/7" will be premiered in Tauranga on March 9 and in Auckland on March 13.
Schneider has made the trip to New Zealand to be at his daughter's side as the series is launched.
He told J-Wire: "She calls me the Noah of her ARCC and I would have moved heaven and earth to be with her."
Premier times and places:
Sunday 9 March –  TAURANGA :  There will be two sessions – 11am  and 7pm – at Rialto Cinema, Goddard Centre, 21 Devonport Road, Tauranga.  
Thursday 13 March – AUCKLAND:  8:15 p.m. at Rialto Cinema, Cinema 4 167-169 Broadway, Newmarket, Auckland.
Tickets may be secured through the Holistic Vets Website –
http://www.holisticvets.co.nz/
Viewing Channels:
TV CENTRAL & TV ROTORUA: Monday 10 March 8:30pm
SKY CUE 200: Friday 14 March 8pm
COUNTRY TV: Wednesday 12 March 8pm
See viewing guide for program repeats