Jewish team walks for cancer research
March 6, 2014 by J-Wire Staff
Read on for article
Nineteen Jewish women recently participated in a 60km walk around Melbourne raising $59,000 for the city's Peter MacCallum Cancer Hospital.
The walk took place over two days and some of the women slept in tents overnight. Walker Ginette Searle told J-Wire: "Our team was called the A team in honour of our inspirational captain Alison Jones. She is a cancer survivor and is dedicated to raising funds for research into cancer and its treatment. The team members walked for different reasons. Some were remembering friends or family members who had died of cancer and others were themselves survivors."
The nineteen women, many of whom spend their weekends at the service of their families, walked through many familiar areas of Melbourne including Caulfield with the walk passing in front of the Peter MacCallum Hospital where the women received cheers of support from banner-waving onlookers.
Searle added: "There were other Jewish teams and individuals as part of other teams. Some were Shomer Shabbat and Kosher food was on offer during the walk."
J-Wire understands that women's cancer, notably breast cancer, is prevalent amongst Ashkenazy women.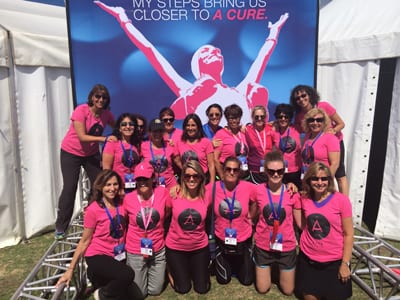 Annette Charak  is one such person and she raised the most money for the cause. At the closing ceremony she told her own story which, according to Searle, "left people speechless with emotion".
Searle told J-Wire: "At the end of the two day walk, the A-Team sang Shalom Aleichem and Ose Shalom breaking into a Hora…much to the delight of the onlookers."
Over 1400 participants in the walk collected a total of $3.6 million.
Annette Charak's address:
I'm Annette Charak and I love my family. I love my friends and I love my community. And I love them all the more for the support and care they have given me over the past year. One year ago today, I learned that I had breast cancer. After my diagnosis, there followed, along with intense emotion, surgery – twice; chemotherapy – 6 ghastly sessions; and 6 weeks of radiotherapy.
My cancer was discovered after a routine MRI. I had the MRI because of the BRCA 1 mutation, a genetic mutation that indicates a significantly increased risk of breast and ovarian cancer.
I have the BRCA1 mutation. So does my sister. So does our mother. So does her sister. So does one of my cousins and one of her daughters. And so might another dozen girls in the next generation of our family, including my own 2 daughters.
Cancer enters all our lives. For some it moves right in; for others it hovers on the periphery. In our family, the women's cancers cannot be ignored. As well as the shadow cast by BRCA 1, my mum is living with ovarian cancer. My aunt has had breast cancer. I have had breast cancer. And, whether we face our cancer with fear or defiance, anger or acceptance, all of us who have been treated for cancer or are screened for cancer, are the beneficiaries of research.
When in December my cousin suggested putting together a family team for this walk, I loved the idea, partly because I love doing stuff with my family, partly as a personal challenge – a way of encouraging my physical recovery –and partly because after a year of living very inwardly as a way of doing something outside of myself, something positive – and what could be more positive than raising money for valuable research.
In Jewish tradition, 18 represents life and my ultimate fundraising goal was 1000 x life, $18000. Thanks to the generosity of hundreds of people who are in or have touched my life, I not only met that goal, but exceeded it by several thousand dollars.
And now I stand here, feeling as I expected I might: exhausted and exhilarated. Exhausted – no explanation is needed. Exhilarated that I did this. I walked 60 kilometres on my post-chemotherapy legs and I'm still standing.
Exhilarated that the weekend has been more than a fun challenge – it has been an uplifting celebration of community. Exhilarated that I, my team and all of us who have participated in this weekend have raised 3.6 million dollars for Peter Mac, an institution dear to my heart for its successful treatment of my mother for an earlier cancer.
And the money we have raised will help fund research that will continue to work towards better understanding, better screening, better treatment, better outcomes for women with cancer and ultimately, we hope, an end to women's cancers.
But just in case that doesn't happen by next year, I'm coming back. Because Peter Mac needs us and we need Peter Mac. So get your family, get your friends and get your colleagues, and form a team. Tell them what it's like to be part of this great experience. See you next year.