"A Real Abuse of Power"
March 20, 2011 by Henry Benjamin
Read on for article
A Marrickville councillor has slammed mayor Fiona Byrne for using the Council web site to explain why Israel should be boycotted.
Independent councillor Vic Macri told J-Wire that he pushing for an extraordinary general meeting of council to have the Boycott Divestment and Sanctions page on the web site removed immediately.
This is what Mayor Byrne has authorised: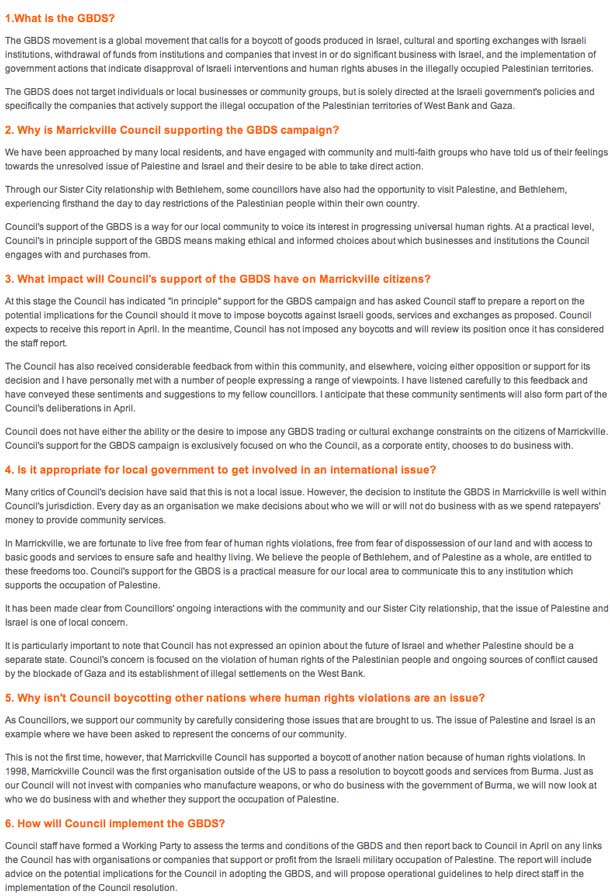 Councillor Macri told J-Wire that he had complained to the Council's General Manager. "It went up on on the web site on Thursday afternoon. Why would you put this out there the week of a State election? I am going to be pushing to have it taken off the web site. I think It is a breach of the code of conduct. The mayor has said publicly she will take the BDS issue as part of her policy to State Government. She's running a State campaign with  a local Council's money.  The ratepayers don't want to be part of this. They don't want to be part of a boycott of Israel. The vast majority think that Council has overstepped its mark."
Councillor Macri has a hairdressing shop on Marrickville Rd and told J-Wire he talks to locals all day. "The local Vietnamese population is perplexed by the BDS issue. They can't understand why council is going into Israeli politics. They feel they were elected to look after Marrickville."
He added that he was not is a position to deal with this alone and said a meeting would be necessary but did mention that the Labor Party had sent a letter of complaint.
Speaking of next week's State election, Councillor Macri said that he hoped sitting member Carmel Tebbut "would rise to the challenge"  He added:  "She has done a great job for our local community."
Cuncillor Macri said the issue is really about grabbing a handful of votes. The majority of people do not want the BDS.   "The General Manager is trying to politicise the staff on this matter. He has refused to tell me the cost to Council saying that they don't record the costs. The Mayor has compromised Council by emailing the BDS message to 2000 constituents. It is a real abuse of power."
The next Council meeting is not scheduled until the third Tuesday of April.