Feintooner
January 21, 2019 by Feintooner
Read on for article
This week's cartoon:   Building Bridges, not walls.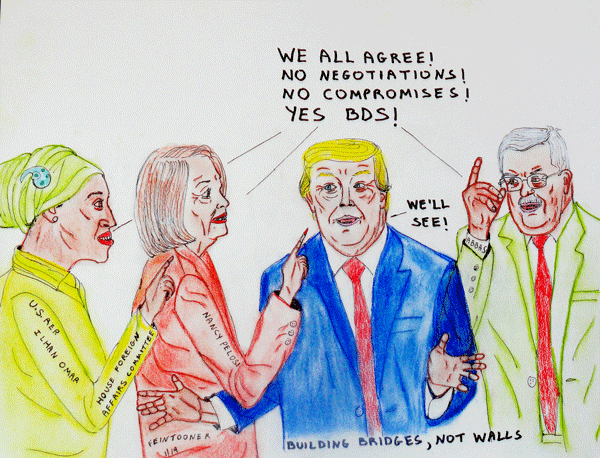 Photo Galleries

What's On? When? Where?
Positions Vacant/Classifieds

March-24 Sydney: First of three free meditation classes

Rabbi Orna Triguboff conducts first of three free meditation classes. Read more

May-31: Zoom interview with Esther Safran Foer

Following a successful live event with 550+ people tuning in to hear the author of Unorthodox, Deborah Feldman, interviewed by Michaela Kalowski, the Shalom Sydney Jewish Writers Festival has announced its next online event. Read more

Jun-01 Zoom: Fertility during a pandemic

There has been added anxiety for couples hoping to start a family in these trying times. Some couples may have lost their income, others may be concerned with health impacts on a pregnancy, and many have been affected by the temporary suspension of fertility treatments. Read more

Jun-05 00:55 SBS-Viceland TV: Hate Thy Neighbour/Forbidden Love in Israel

Comedian Jamali Maddix goes eating, drinking, relaxing and partying with groups spreading hate across the world in an attempt to figure out what perpetuates their prejudice. Read more

Jun-7 5:25 pm SBS-TV: Chris Tarrant: Railways of the Holocaust

Chris Tarrant takes a journey through WWII as he finds out how the most horrendous and coldly calculated genocide in human history was made possible by the railways. In WWI, railways became vital to modern warfare, the supply lines without which the bloodshed of the Western Front would have ground to a halt.

Jun-10 5 pm: Australia-Israel Chamber of Commerce and the Israel Embassy webinar

The Embassy of Israel and the Israel Trade Commission invite you to join a discussion with a panel of leaders from Israel's innovation eco-system. Read more

Jun-11 Zoom: Sir Zelman Cowen webinar: Multifaith responses to COVID-19 – Governing in a crisis

An expert interfaith discussion on how faith-based communities are responding to the challenges and opportunities of the pandemic now and into the future. Read more

Jun-18 7:30 pm SBS/World Movies: The Physician

In Persia in the 11th Century, a surgeon's apprentice disguises himself as a Jew to study at a school that does not admit Christians. Read more

Articles published on J-Wire do not necessarily reflect the views of the publisher. We strive, within reason, to allow diverse views to be aired and answered.

J-WIRE IS FREE BUT IT COSTS TO RUN. CAN YOU HELP?

Contact Us

AWeber

Like J-Wire on FB

EMPLOYMENT OPPORTUNITIES

COMMENTS
J-Wire will accept comments only from readers who provide a name and a legitimate email address.