Feintooner
March 12, 2018 by Feintooner
Read on for article
This week's cartoon – Domino theory.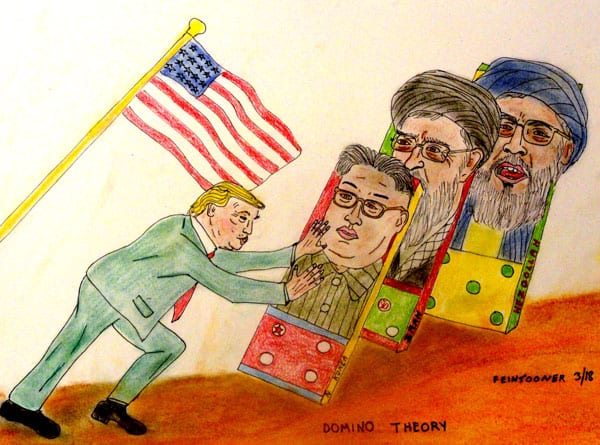 Photo Galleries

What's On? When? Where?
Positions Vacant/Classifieds

Jul-16 Zoom: FOJAM set to present "Spun Stories"

Melbourne's FOJAM (Festival of Jewish Arts and Music) is to present an online storytelling event Spun Stories. Read more

Jul-16 7 pm Zoom: Impacting Science from a Small Country – Q&A w Nobel Prize laureate

Over the past two decades, eight Israeli scientists have won the Nobel Prize, an extraordinary achievement for a country of its size and population. Read more

Jul-22 Zoom: Fleeing the Hijab

"On July 22, Zionism Victoria, in partnership with St Kilda Hebrew Congregation and South Caulfield Hebrew Congregation, will host Iranian-born Dr Sima Goel for her first Australian appearance. Read more

Jul-31 8:30pm SBS-TV: Biography – Marshall

In the year 1941, as the nation teeters on the brink of entering WWII, a nearly bankrupt NAACP sends its only lawyer, thirty-two-year-old Thurgood Marshall, to conservative Connecticut to defend a black chauffeur against charges of rape and attempted murder brought by his wealthy socialite employer. Read more

The creator of Shtisel, Yehonatan Indursky, will be zooming in from Israel to give a talk and Q&A session on August 5. Read more

Articles published on J-Wire do not necessarily reflect the views of the publisher. We strive, within reason, to allow diverse views to be aired and answered.

J-WIRE IS FREE BUT IT COSTS TO RUN. CAN YOU HELP?

Contact Us

AWeber

Like J-Wire on FB

EMPLOYMENT OPPORTUNITIES

COMMENTS
J-Wire will accept comments only from readers who provide a name and a legitimate email address.