July 30, 2020 by J-Wire Newsdesk
Read on for article
Comedian and actor Jason Alexander, best known as the much-loved character of George Constanza in Seinfeld, will headline JNF's Virtual Gala on September 1.
Starting at 8 pm, this will be a one-hour special online event, with leading talent from around the world being broadcast nationally.
JNF Australia's Annual Gala Dinner has become a highlight of the communal calendar, featuring engaging speakers, uplifting entertainment and inspiring projects in Israel.
Joining Jason Alexander will be Lord John Mann, the UK's anti-Semitism czar, mentalist Lior Suchard with guest appearances of Wonder Woman Israeli actor Gal Gadot, Shtisel's Akiva, actor Michael Aloni and Israeli Idol Hagit Yaso.
Apart from being one of the world's most popular actors, Alexander is active in his support for Israel, as a prominent American Jew. Lord Mann, with no Jewish background, has been one of the UK Parliament's leading advocates for Israel and against anti-Semitism for almost two decades and led the movement to defeat Jeremy Corbyn in last December's UK elections.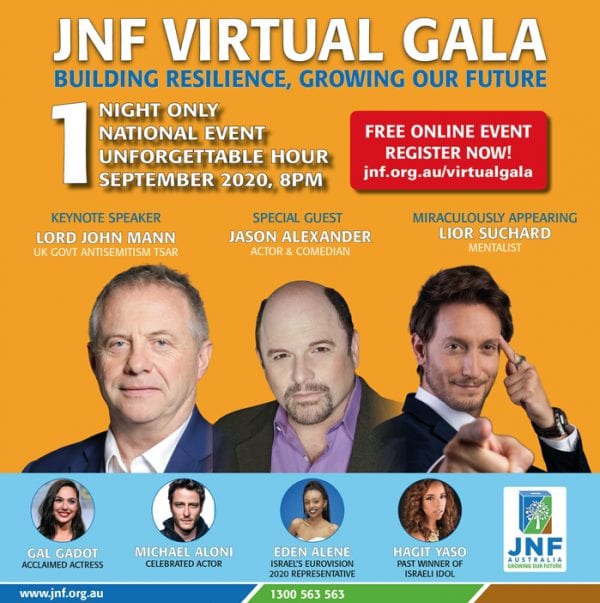 Commenting on their keynote speaker, JNF CEO Dan Springer said that "Lord John Mann helped defend the British Jewish Community against its greatest threat in 75 years and has created an international alliance to fight the rising tide of anti-Semitism around the world. In these challenging times, our national audience will be inspired by Lord Mann's message of courage, defiance and hope."
The theme of the evening will be "Building Resilience, Growing our Future" and will be in support of the Sderot Resilience Centre in Israel's South, providing therapies for children suffering from PTSD due to frequent rocket attacks from Gaza.
To register for the JNF Virtual Gala please go to jnf.org.au or call 1300 563 563